BX series
BX900/BX900DD/BX900T
High-Tech Expertise in 5-axis Machining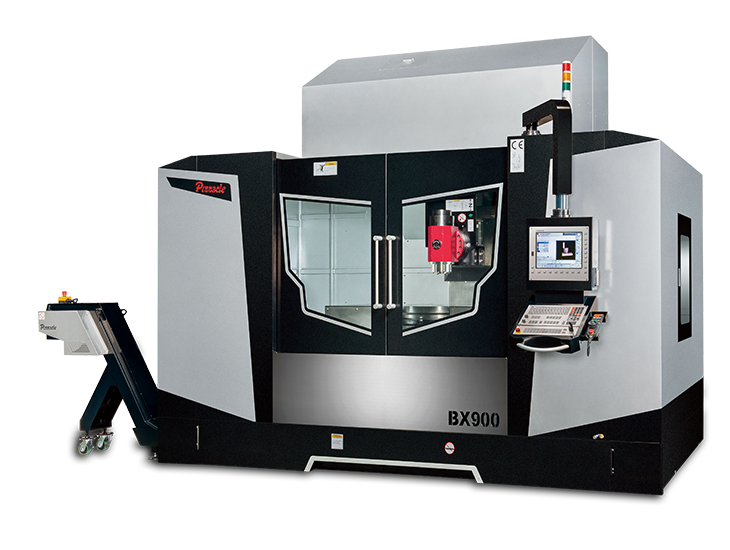 5 - AXIS MACHINING CENTER
BX series machines by Pinnacle offer the latest and most precise 5-axis technology in the market. Simplify setup and production of complex and multi-sided parts without sacrificing precision and accuracy and saving time. Optimized 5-axis concepts meet every requirement and prevail in all industries worldwide BX series designed by Pinnacle that are High rigidity structure to provide widest working range. Hi quality Meehanite casting iron, tempered for stress relief and over HB190 hardness to ensure deformation-free performance year and year.
Features
Real powerful 5-axis machining center
Fast and contour-accurate motion guide
High-quality surface
The shortest machining time
BX900/BX900DD/BX900T
High precision, 5-axis control vertical machining center that a swivel head with DD Motor on the rotary table to achieves the highest productivity in 5 axis machining.
Features
Specifications
Accessories
Video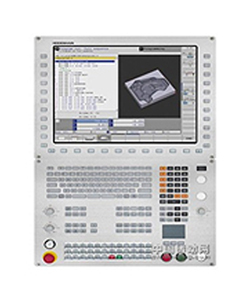 High Speed 5 axes M/C
5 axes Machining Center
Built-in 15000rpm Spindle Speed
Built-in C-axis table
Heidenhain TNC640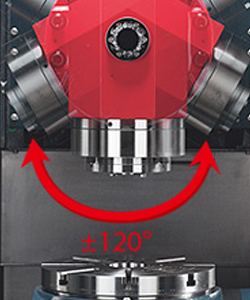 B-AXIS-SWIVEL MILLING HEAD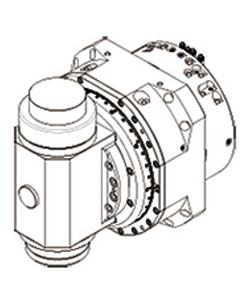 Hi-Speed, Hi-Power, Hi-Torque, Built-in Spindle 15000 rpm, swivels ±120°
Unique B-axis Design(OPTION)
The transmission mechanism of B axis for BX-series is innovated from dual worm wheel/shaft to direct drive. In addition to the smooth and powerful torque, the direct driving system features higher rotation sped, high servo response, zero backlash, and outstanding dynamic accuracy for the optimum workpiece surface finish. The external cooling system efficiently minimizes the structural thermo deformation and accuracy deflection, moreover, the output torque is upheld since the temperature is constantly kept in low and stable level.
The rear end of B axis shaft is fitted with and angular position coder to boost positioning accuracy of B axis. The application of direct drive motor in B and C axis increases the overall accuracy as well as machining efficiency of the machine.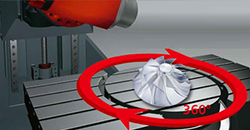 Pinnacle BX is the best cost-effective manufacturing investment of 5-axis simultaneously controlled machining centers, it brings positive and instant results by improving machining accuracy and reducing cutting time.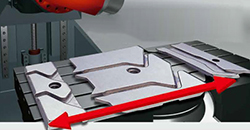 BX900 / BX900DD / BX900T is high speed, high accuracy with HEIDENHAIN TNC640 5-axis simultaneously controlled machining center. Equips 15000rpm built-in spindle, B-axis swivel head ±120°, and C-axis Ø800mm rotary table (Built-in DD C-axis) to optimize machining space and allows complex workpieces to be finished in just one setup and reduces cycle time.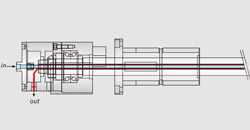 Hollow Ball Screw with Cooling System
Oil cooling through ball screws on X, Y, Z axis minimizes thermal deformation and backlash, while ensuring smooth motion during rapid traverse.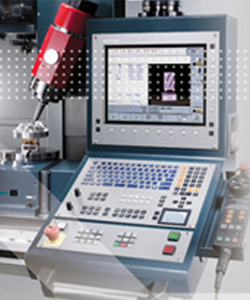 CNC CONTROLLER SYSTEM
BX series is high speed, high accuracy with HEIDENHAIN TNC640 5-axis simultaneously controlled machining center. Standard with 15000rpm built-in spindle.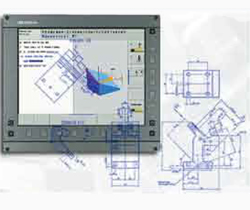 PLANE Function
The PLANE feature makes it easy to define a tilted working plane so that making everything much.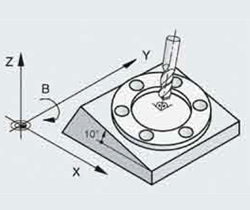 Tilting the Working Plane
Use tilting the working plane. With Cycle 19 with swivel heads or tilting tables. You program the operation as usual in the working plane, for example in X/Y. The machine runs the program in a plane that has been tilted by one or more rotary axes with respect to the main plane.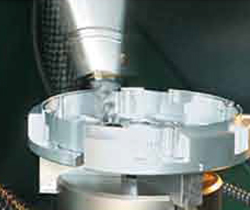 DCM (Dynamic Collision Monitoring)
DCM enables you to check for collision in the test run mode before acutally machining a part. To avoiding machine dowtimes. Simulation for a safety process.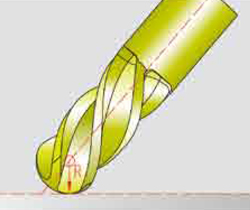 TCPM function (Tool Center Point Management)
In five-axis operations, TCPM function to move the tool reliably on the contour and ensure that the work surface is not damaged. Maintain the position of the tool tip when positioning with tilted axes.
With the aid of the TCPM function, the iTNC 530 automatically corrects the tool path for the machine geometry and the tool length as well as compensates the tool radiusin three dimensions.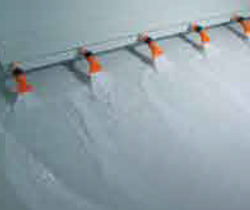 Chip Flushing System
Chip flushing system is equipped to remove cutting chips inside of enclosure, which prevents chip accumulation and any possible damage to the linear guideways and ball screws.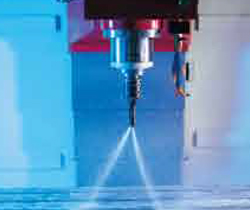 Coolant Through Spindle (Option)
20 Bar high pressure pump and sub tank assure CTS system offers the highest efficiency of chip disposal.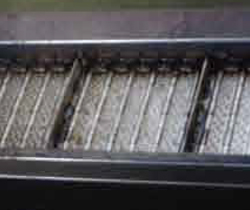 Chip Conveyor (Option)
Hinge type or scraper type chip conveyor in front side of machine (able head to left or right) removes chips from machine.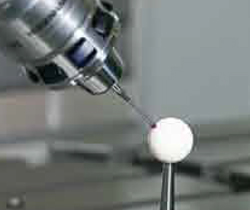 Kinematice Opt. (Option)
KinematiceOpt. is an important component to help you meet these high requirements: With a HEIDENHAIN touch probe inserted, a 3-D touch probe cycle measures your machine's rotary axes fully automatically. The results of measurement are the same, regardless of whether the axis is a rotary table, a tilting table or a swivel head.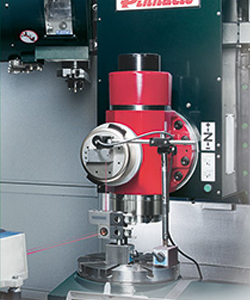 B-AXIS-SWIVEL MILLING HEAD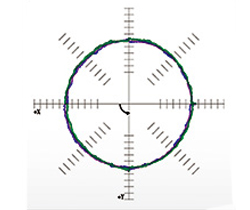 BALL BAR DIAGNOSTICS
All Aspect Quality System
Quality comes not from inspection but from every Pinnacle staffs' mentality. The state-of-the-art inspection equipments only help us to prove our attitude and accuracy results.

MODEL
BX900
BX900DD
BX900T
TABLE
TABLE SIZE (mm)
1700x850
1700x850
1700x850
TRAVEL RANGES (X/Y mm)
1500/900
1500/900
1500/900
TRAVEL RANGES (Z mm)
Vertical 1000 /
Horizontal 1100
Vertical 1000 /
Horizontal 1100
Vertical 1000 /
Horizontal 1100
MAX. TABLE LOAD (Kg)
1200
1200
1200
SPINDLE NOSE TO TABLE SURFACE (VERTICAL)
115~1115
115~1115
100~1100
SPINDLE CENTER TO TABLE SURFACE (HORIZONTAL)
255~1355
255~1355
255~1355
T-SLOT (W x D x N mm)
18x150x5
18x150x5
18x150x5
BUILT-IN SPINDLE
SPINDLE TAPER
DIN40
DIN40
HSK63T
BEARING INNER DIAMETER (mm)
Ø 70
Ø 70
Ø 70
SPINDLE CENTER TO COLUMN (mm) 
950
950
970
SPINDLE SPEED (rpm)
15000
15000
15000
DRAW BAR FORCE (Kgf)
900±100
900±100
1800±100
MAIN MOTOR (con /S6 60% kW)
15/19.4
15/19.4
19/23
MOTOR TYPE
E+A                      mW16/17-8
E+A                      mW16/17-8
ATE                      AC180/150/8
MOTOR TORQUE (con/max Nm)
71.6/172
71.6/172
93/239
SWING HEAD
DRIVER TYPE
WORM GEAR
Direct drive
Direct drive
REDUCTION RATIO
1:120
-
-
TILTING RANGE (deg)
±120°
±120°
±120°
ROTATION SPEED (rpm)
16.6
50
50
MIN. INDEX (deg)
0.001
0.001
0.001
CLAMP TORQUE (Nm)
1765
2950
2950
WORKING TORGE (Nm)
765
689
689
SWING HEAD
TYPE
EMBEDDED
EMBEDDED
EMBEDDED
DRIVER TYPE
Direct drive
Direct drive
Direct drive
TABLE DIAMETER (mm)
Ø800
Ø800
Ø800
CENTER BORE DIAMETER (mm)
Ø60
Ø60
Ø60
ROTATION SPEED (rpm)
50
50
50(Mill) / 800(Turn)
MIN. INDEX (deg)
0.001
0.001
0.001
MAX. TABLE LOAD (Kg)
1200
1200
800(Mill) / 500(Turn)
AXIS SERVOMOTORS
RAPID FEED RATE (X/Y/Z m/min)
20/20/16
20/20/16
20/20/16
FEED RATE (X/Y/Z mm/min)
10000
10000
10000
 X/Y/Z-Axis Rated Torque  (Nm)
30.6/30.6/30.6
30.6/30.6/30.6
30.6/30.6/30.6
B-Axis Rated Torque (Nm)
11
689
689
C-Axis Rated Torque (Nm)
533
533
533
TOOL MAGAZINE
ATC TYPE
PLATE
PLATE
PLATE
CAM TYPE
DAUL ARM
DAUL ARM
DAUL ARM
TOOL SELECTION (Bi-direction)
RANDOM
RANDOM
RANDOM
TOOL STORAGE CAPACITY (PCs)
30(60)
30(60)
30(60)
MAX. TOOL DIAMETER (mm)
Ø75
Ø75
Ø75
MAX. TOOL LENGTH
250
250
250
MAX. TOOL WEIGHT
8
8
8
MISCELLANEOUS
Positioning    X/Y/Z linear axis(mm)
0.005
0.005
0.005
                   B/C rotary axis(sec)
14"/10"
10"/10"
10"/10"
Repeatability X/Y/Z linear axis(mm)
0.003
0.003
0.003
                   B/C rotary axis(sec)
8"/6"
6"/6"
6"/6"
OTHERS
AIR REQUIREMENT (Kg/cm2)
6
6
6
VOLTAGE
380
380
380
POWER REQUIREMENT (KVA)
50
50
50
COOLANT TANK CAPACITY (L)
700
700
700
MACHINE WEIGHT (KGs)
15000
15000
15000
MACHINE HEIGHT (mm)
3450
3450
3450
FLOOR SPACE (LxW mm)
4450x4340
4450x4340
4450x4340
PACKING SIZE (LxWxH mm)
4300x3260x4030
4300x3260x4030
4300x3260x4030
All Specifications And Designs Are Subject To Change Without Notice.
BX900DD WORK RANGE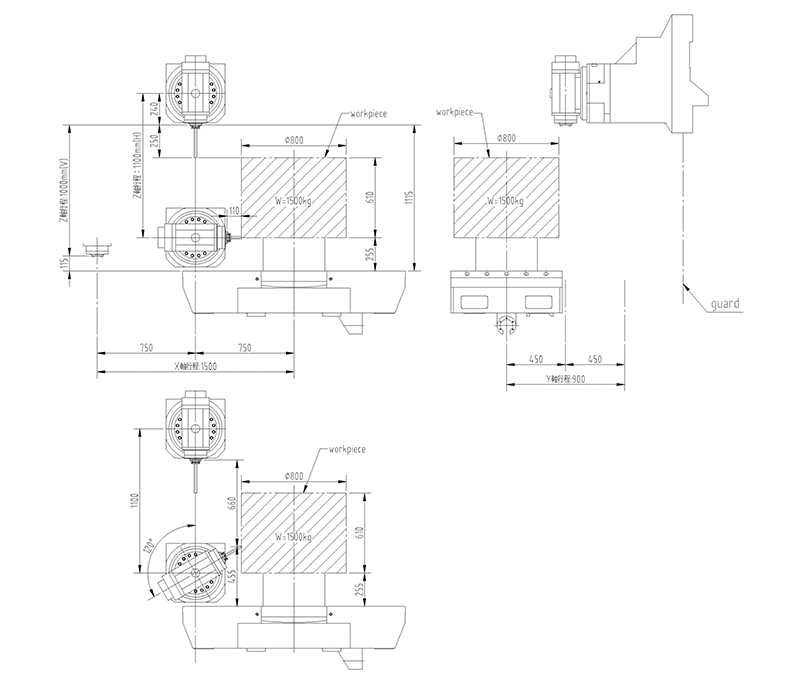 SPINDLE POWER CHART